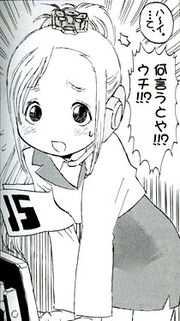 15 Go! Go! was a series of single-page comics that ran in Hyper Hobby Magazine in Japan, from July 2005 to September of 2007, primarily as an advertising vehicle for the latest releases in Takara's "Transformers Collection" reissue series.
The series mainly follows the (mis)adventures of Teletraan 15, charged by the mysterious "Black Panther Man" to traverse time and space, gathering data on the Transformers. As she does, her friend Teletraan 10 provides snarky commentary on the Cybertronians she meets.
Towards the end of the run, the comic took a side-trip to follow the events of the Kiss Players as they too traveled across the dimensions.
Story
Thanks for helping me... pull myself together.
---
This comic issue article is a stub and is missing information. You can help Teletraan I: The Transformers Wiki by expanding it.
Collection
The entire 15 Go! Go! series was collected in a single book, along with the sum of the Kiss Players manga and the packaging illustrations writer/artist Yūki Ōshima did for the associated toys.
Ad blocker interference detected!
Wikia is a free-to-use site that makes money from advertising. We have a modified experience for viewers using ad blockers

Wikia is not accessible if you've made further modifications. Remove the custom ad blocker rule(s) and the page will load as expected.