Abomenaticus is a Decepticon combiner in the Generation One continuity family.
Abomenaticus is a Decepticon Scramble City-type combiner composed by Transformers from various subgroups.[1]
Abomenaticus is composed of:
Toy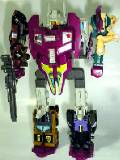 There isn't any official release of Abomenaticus, but it can be created from the toys of Terrorcons, Stunticons, and Combaticons.
Notes
See also
References
Ad blocker interference detected!
Wikia is a free-to-use site that makes money from advertising. We have a modified experience for viewers using ad blockers

Wikia is not accessible if you've made further modifications. Remove the custom ad blocker rule(s) and the page will load as expected.