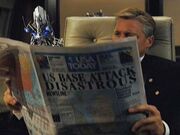 Air Force One is the air traffic control callsign for any United States Air Force aircraft with the President of the United States on board. It has an impressive pantry with all the President's favorite snacks. It also is prone to hijinks involving small robots getting on board to shut down the entire United States Defense Grid. It's useful like that.
Ad blocker interference detected!
Wikia is a free-to-use site that makes money from advertising. We have a modified experience for viewers using ad blockers

Wikia is not accessible if you've made further modifications. Remove the custom ad blocker rule(s) and the page will load as expected.