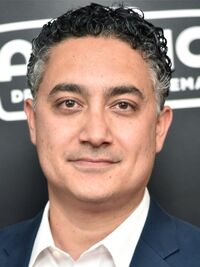 Alessandro Juliani (April 3, 1978-) is a Canadian screen, stage and voice actor. Probably his highest-profile role is that of Lt. Felix Gaeta in the 2003 Battlestar Galactica series. He also provided the voice of Kid Icarus on Captain N: The Game Master, L on Death Note, and is known as a talented singer.
Beast Machines
Go-Bots
External links
Ad blocker interference detected!
Wikia is a free-to-use site that makes money from advertising. We have a modified experience for viewers using ad blockers

Wikia is not accessible if you've made further modifications. Remove the custom ad blocker rule(s) and the page will load as expected.