Ames is a human in the Marvel Comics portion of the Generation One continuity family.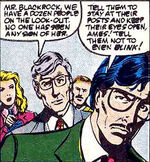 Ames is G.B. Blackrock's Chief of Staff. You can tell him apart from Blackrock because Blackrock sometimes has a mustache.
Fiction
Marvel Comics continuity
Ames had the thankless job of yanking Blackrock from doing laps in his racecar at Blackrock Motor Speedway when General Capshaw arrived to express his concerns about Blackrock's secret project.
Blackrock later put Ames on the look-out when Josie Beller escaped from the hospital as Circuit Breaker, who threatened to sabotage that same secret project. DIS-Integrated Circuits!
Ad blocker interference detected!
Wikia is a free-to-use site that makes money from advertising. We have a modified experience for viewers using ad blockers

Wikia is not accessible if you've made further modifications. Remove the custom ad blocker rule(s) and the page will load as expected.