The name or term Area 5X refers to more than one character or idea. For a list of other meanings, see Area 5X (disambiguation).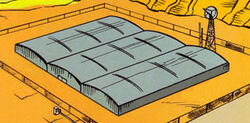 Area 54 is an isolated facility in the Nevada desert belonging to the autonomous agency E.R.T.D..
On its exterior, Area 54 appears to be a private airstrip., but its three 'hangars' actually conceal a research installation that goes down many levels.
Area 54 was active between the 1950s and 2003, when E.R.T.D. was shut down.
For further information, see: E.R.T.D.
Ad blocker interference detected!
Wikia is a free-to-use site that makes money from advertising. We have a modified experience for viewers using ad blockers

Wikia is not accessible if you've made further modifications. Remove the custom ad blocker rule(s) and the page will load as expected.