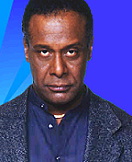 Arthur Burghardt (born 1947) is an American actor. He is probably best known for playing Destro and Stalker on G.I. Joe, and Turbo on Challenge of the GoBots. He also played Dr. Jack Scott on One Life to Live and mentor-to-superheroic-Mexican-wrestlers Laurant on Los Luchadores.
Voice roles
Generation One
Notes
Burghardt was name-dropped on the Seinfeld episode "The Pothole", in which Kramer adopts a stretch of the "Arthur Burghardt Expressway". It was explained in the DVD audio commentary for the episode that Burghardt had auditioned for the show several times, and while liked by the producers was not cast in those roles. In lieu of an appearance, Burghardt was name-dropped.
External links
Ad blocker interference detected!
Wikia is a free-to-use site that makes money from advertising. We have a modified experience for viewers using ad blockers

Wikia is not accessible if you've made further modifications. Remove the custom ad blocker rule(s) and the page will load as expected.