You left a piece out!
---
This article is a stub and is missing information. You can help Teletraan I: The Transformers Wiki by expanding it.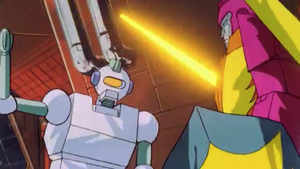 The auto-combatants are drones used by Autobots (and presumably other Cybertronians) to practice fighting while in long voyages.
Fiction
The Transformers cartoon
Hot Rod sparred with an auto-combatant while the group is on their way to Cybertron. It managed to knock him out, and Hot Rod was about to strike back when it called a time-out when the Decepticons attack. The Transformers: The Movie
Dreamwave Generation 1 comics
Hubcap, Swerve, Red Alert and Pipes were pitted against some auto-combatants at training. Black Sunshine
Shattered Glass
The auto-combantants were solid holograms that could be generated by computer in a specifically-designed room. Shattered Glass
Ad blocker interference detected!
Wikia is a free-to-use site that makes money from advertising. We have a modified experience for viewers using ad blockers

Wikia is not accessible if you've made further modifications. Remove the custom ad blocker rule(s) and the page will load as expected.