Ad blocker interference detected!
Wikia is a free-to-use site that makes money from advertising. We have a modified experience for viewers using ad blockers

Wikia is not accessible if you've made further modifications. Remove the custom ad blocker rule(s) and the page will load as expected.
Autoscout is a Decepticon Mini-Cassette drone in the Generation One continuity family.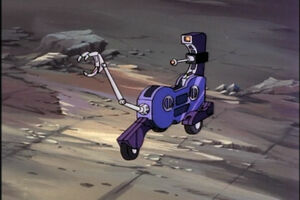 An autoscout is a type of Transformer drone that can be released and used for scouting duties that are considered too dangerous for a Decepticon. It is programmed to analyze and report their findings to their operator.
Fiction
Generation One cartoon
After uncovering a new source of energy, Megatron told Soundwave to dispatch an autoscout to examine the location. The scout discovered a formation of Corlonium crystals and began to examine a piece when the energy the crystals emitted caused it to explode. A Prime Problem