Ad blocker interference detected!
Wikia is a free-to-use site that makes money from advertising. We have a modified experience for viewers using ad blockers

Wikia is not accessible if you've made further modifications. Remove the custom ad blocker rule(s) and the page will load as expected.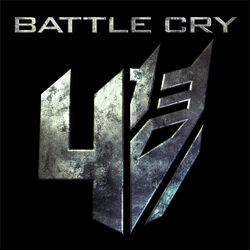 Battle Cry is a song written and performed by Imagine Dragons and is the theme song to Transformers: Age of Extinction.
Lyrics
Just one more time before I go
I'll let you know
That all this time I've been afraid
Wouldn't let it show
Nobody can save me now, no
Nobody can save me now

Stars are only visible in darkness
Fear is ever-changing and evolving
And I have been poisoned inside
But I, I feel so alive

Nobody can save me now
The king is crowned
It's do or die
Nobody can save me now
The only sound
Is the battle cry
Is the battle cry
Is the battle cry
Nobody can save me now
It's do or die...

Oh

Nobody can save me now
The king is crowned
It's do or die

Nobody can save me now
The only sound
Is the battle cry
Is the battle cry
Is the battle cry
Nobody can save me now
It's do or die...

Just one more time before I go
I'll let you know
That all this time I've been afraid
Wouldn't let it show
Nobody can save me now, no
Nobody can save me now