Bayformer
Talk

16
7,881pages on
this wiki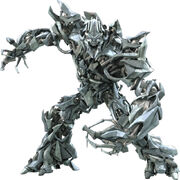 The term Bayformer is a tongue-in-cheek derogitory term used by some members of the fandom in reference to the Transformers featured in the movies directed by Michael Bay. It is usually used in a negative manner toward Michael Bay and the physical designs of the Transformers in the film, as well as their personalities, unique attributes, and other aspects that some claim to make the Michael Bay movies worse. The term is used widely to describe or express distaste regarding the less than perfect nature of the Michael Bay Transformers, and is also used in broader terms to express distaste for the Bay films altogether.
While some fans prefer the more complex designs of the Transformers from Michael Bay's films because they offer a more intricate, detailed and modern appearance, others dislike them because of their lack of individual character. One design element common to the atypical Bayformer is that, although still alien in appearance, the Autobots have decidedly more human faces than their Decepticon foes, while the Decepticons are far more reptillian/insectoid in appearance. This is most likely used to make the Autobots appear more friendly and reliable, and the Decepticons more evil and dangerous. Unlike their original designs, the Bayformers have some type of blood, and saliva making them appear more alien than machine, and some of them even possesses tentacles.
In most other forms of media that the Transformers have appeared in, such as the first Transformers film made in 1986, the Transformers have presumably had better armor, since human-manufactured weapons such as bullets and rockets didn't effect them in the slightest, whereas in Michael Bay's movies they damage the Bayformers easily. The weapons the Bayformers use in the films are usually weapons that fire more conventional types of ammunition, such as bullets, rockets, and more recently what may be a shotgun equivalent, while in every other appearance, the Transformers have primarily used either melee weapons, such as axes, morningstars, and swords, or weapons that fire lasers or other forms of condensed energy.
Older fans of Transformers, or those who have watched the original Generation One Transformers Show are more familiar with the likenesses of the characters in the Michael Bay movies, and are usually subsequently dissapointed with the way in which they are portrayed in the Bay films, as opposed to their original G1 characteristics. For example, Bumblebee, who was originally depicted in G1 as soft spoken, kind, and humble, the Bayformer equivalent in the first Bay film can be described as sarcastic, erratic and occasionally crude, for the sake of "humor". Some fans are also dissapointed with the vehicle forms that the Bayformers take, as opposed to their original forms from G1. Some examples include:
-Ratchet, who was originally a onebox ambulance, but who's Bayformer equivalent took the form of a Humvee.
-Optimus Prime, who originally took the form of a cab-over-engine red Freightliner truck, but takes the form of a Peterbilt truck in Michael Bay's movies that was not a cabover, and with an unconventional flame paint scheme that annoyed many Prime fans.
-Jazz, who originally transformed into a Martini Racing Porsche 935, was represented by a modified Pontiac Solstice, which many argue is too lackluster to represent Jazz.
-Bonecrusher, originally a Constructicon, was represented as an MRAP Buffalo military vehicle, which strays from not only his original vehicle form, but also his character altogether.
-Bumblebee, who was a VW Beetle in G1, was changed into a Camaro for the Bay films, and while the Beetle is an understandably uncool car, many argue that a Porsche would have better fit the character.
-Mirage, who not only lost his original vehicle form of an F1 car to a red Ferrari 458 Italia -a vehicle more suited to Sideswipe, who was instead a silver Corvette- but also was given (of all things) a Spanish accent.
-Soundwave, who -originally being a tapedeck- needed a vehicle form that would in some way display the fundamentals of being able to record and relay information (which was the tapedeck form's primary function), like, say... a News van, or perhaps a Predator Drone, or... a Mercedes SLS AMG. (Yes, he was a satellite for a time- that isn't the criticism, here.)
-Devastator, who was originally a massive, Green and Purple two legged Decepticon, was represented in the films as a four legged multi-colored monstrosity, with (again, for the sake of bad humor...) testicles. Yup.
Many other characters suffer from similar issues.
Fans also become irritated when Transformers in the Bay films do very out-of-character things, for the sake of a one liner, or action scene. A perfect example can be found in Transformers 3, when Optimus Prime is in combat with Sentinel Prime at the end of the film. Remember back in the original film from the eighties when Optimus is fighting Megatron -his arch nemesis? Megatron is nearly defeated by Prime and begins begging for mercy. Optimus was willing to spare him, even after he had destroyed a precious city, killed numerous Autobots and fought against him in intense combat. However, in the third Bay film, Dark of the Moon, Optimus nearly loses his life to Sentinel Prime, to be saved by Megatron who feared Sentinel Prime had too much power. Megatron then makes it very clear that he isn't willing to fight Optimus. Prime, for some ludicrous reason, then goes completely out of character and kills Megatron, after Megatron hadn't fought him, but saved him. Not only that, but after leaving Megatron in a state of dismemberment, he returns to the now-battered nearly destroyed Sentinel Prime, and, acting more like the Decepticon he had just deactivated than the Prime most know and love, Bayformer Optimus levels his weapon and shoots the wounded, defenseless Sentinel through the head. Many who criticize the film argue that if there ever was a less "Optimus Prime" thing to do, it would be killing A. Someone who saved your life, or B. Someone who could not fight back.
Others find it upsetting that the Bayformers in the films have to "share the spotlight" with other human characters. For example, in the first Bay film, it isn't Optimus Prime who vanquishes Megatron, but Samuel Witwicky- a human boy. This theme of 'important humans with robots', rather than 'ROBOTS! (and a few important humans)' annoys fans who argue that a film called Transformers really ought to put more of an emphasis on the Transformers, rather than humans. Furthermore, in every Bayformers film, there tends to be a female character who is a stereotypical model who sometimes wears revealing clothing and occasionally says suggestive things. While this may please some people it displeases many Transformers fans, and since the new Transformers films are largely marketed towards children many view that particular role as unfit for such an audience.
Many fans today have therefore concluded that Transformers under Michael Bay has caused the characters, and even the entire franchise to lose its integrity. People claim that the Transformers characters aren't who they used to be, and that in the new age of Michael Bay films, the brand name Transformers is now more than ever about making money, rather than producing quality media that portrayed authentic characters. To name one example- some claim that in the new films, Optimus Prime is not a true hero, as voice actor Peter Cullen had always intended for him to be. And although the notion that the Transformers show was originally conceived purely to tell a good story is questionable, regardless many fans find the pure absence of any of the hallmarks from G1 as unacceptable, especially when the aspects unique to the Bay films are considered, which (many say) do much more harm than good.
Fans also become annoyed at the fact that Michael Bay seems to make the same mistakes in every Transformers film he has made. Many thought that after the first film, if Bay was directing the next one, he would hear the pleas from the Transformers fanbase, and make changes. Yet, to this day, the same shortcomings have plagued every, single film.
It is primarily for these reasons that the "Bayformers" films have become increasingly unpopular among some Transformers fans, and hence the term Bayformers was coined. Oddly enough however, despite the term's negative meaning and derogatory intent, those who are known to like the Transformers from Bay's movies have also been known to call themselves 'Bayformers fans', which is an improper use of the word, considering the fact that the word's only true intention is to express hate.