Beeline is Double Punch's buddy in the Beast Wars portion of the Generation One continuity family.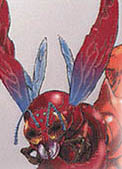 Beeline is Double Punch's personal drone. Its functions range from being a spy drone, attacking wandering Maximals, or filming Double Punch's favorite assassinations.
Toys
Beast Wars
Double Punch (Mega, 1998)
Available only as part of the BotCon Japan 1998 convention-exclusive Double Punch, Beeline transforms from the upper half of Double Punch's right (robot mode) claw into a bee via-spring-loaded launching and auto-transform mechanism.
External links
Ad blocker interference detected!
Wikia is a free-to-use site that makes money from advertising. We have a modified experience for viewers using ad blockers

Wikia is not accessible if you've made further modifications. Remove the custom ad blocker rule(s) and the page will load as expected.