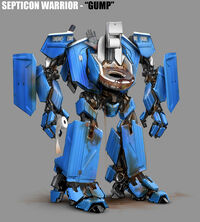 Ben Procter is a visual effects artist and illustrator. He has worked on prominent motion pictures such as The Matrix Reloaded, The Matrix Revolutions and Superman Returns.
He was lead robot illustrator on the 2007 Transformers movie. So if you don't care for the designs, then he's the one to see.
External links
Ad blocker interference detected!
Wikia is a free-to-use site that makes money from advertising. We have a modified experience for viewers using ad blockers

Wikia is not accessible if you've made further modifications. Remove the custom ad blocker rule(s) and the page will load as expected.