This article is about a character or characters with no official name or descriptor.
For more information see Help:Nameless characters.
Black Tasmania Kid is an evil clone from the Beast Wars II portion of the Generation One continuity family.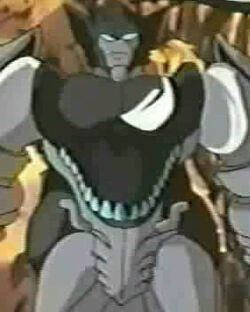 "Black Tasmania Kid" is a black and evil clone of Tasmania Kid.
Fiction
Beast Wars II cartoon
Voice actor: ? (Japanese)
A mysterious device created the nefarious clone of Lio Convoy, Black Lio Convoy. Black Lio Convoy escaped the Maximals, taking the camera with him. Black Lio Convoy laid a trap for the Maximals, waiting below a waterfall for them to arrive—then stepped aside to reveal the copy machine, which scanned the Maximals and created evil copies of Bighorn, Tasmania Kid, Apache and Scuba.
"Black Apache", "Black Bighorn", "Black Scuba", and "Black Tasmania Kid" overpowered their Maximal counterparts. Fortunately, though Black Lio Convoy possessed Lio Convoy's prodigious strength, he did not possess his knowledge, nor did he notice that one Maximal, Diver, was strangely absent. The waterfall Black Lio Convoy chose for his ambush was in fact the Niagara Base, Diver's concealed outpost. Triggering snares to hold the copies in place, Diver bombarded the black Maximals other than Black Lio Convoy. The black clones' death was signaled with their outlines being filled with a rainbow effect and then them disappearing. The Black Lio Convoy
Note: The above summary was written by someone who does not speak Japanese, and some fine points may have been lost in translation. (Fair warning.)