This article is about the Autobot Mini-Con birdie. For the human millionaire industrialist, see G.B. Blackrock.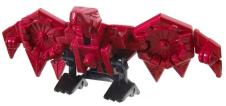 Blockrock is Blaster's Mini-Con buddy. He rocks the block.
Toys
Universe (2008)
Autobot Blaster with Blockrock Mini-Con! (Voyager, 2008)
Notes
Autobot Blaster's packaging-back bio refers to him having a partner called "Flashback". However, "Flashback" is not present on the online version of the bio, being replaced with "Blockrock". Obviously, the packaging bio accidentally uses an earlier name for the Mini-Con bird.
Blockrock's name may be an homage to G.B. Blackrock, from the Generation One Marvel Comics.
Ad blocker interference detected!
Wikia is a free-to-use site that makes money from advertising. We have a modified experience for viewers using ad blockers

Wikia is not accessible if you've made further modifications. Remove the custom ad blocker rule(s) and the page will load as expected.