Blue Maximus is a Decepticon from the the live-action film continuity.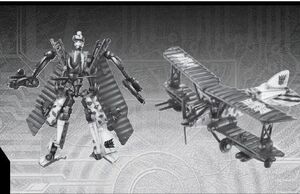 Blue Maximus is an unreleased redeco of the Revenge of the Fallen Scout class Ransack / Divebomb mould.
Continuing Divebomb's theme of basing the re-deco on a real world plane, Blue Maximus is also a homage to WWI aeronautics. In this case, the 1966 film The Blue Max about a German fighter pilot seeking the highest available decoration in 1918.
Intended for release as a part of a Scout two pack assortment, the toys were never officially unveiled, but their instructions were leaked on the Hasbro website in August 2010. To date there has been no further information on these releases, so they will probably never be seen on a shop shelf.