This article is about a character or characters with no official name or descriptor.
For more information see Help:Nameless characters.
Bobby Bolivia's mammy is a human in the Movie continuity family.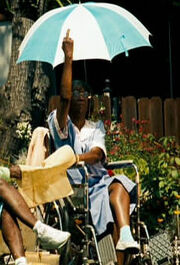 Bobby Bolivia's mammy is an elderly woman who lives in view of Bolivia's Finest Quality Used Cars and Petting Zoo. She is apparently disabled in some way, as she sits in a wheelchair, and she hangs out with two other elderly women.
Fiction
Transformers (film)
Actor: ?
As Bobby claimed to Sam Witwicky that he wasn't a liar, especially not in front of his mammy, he pointed over to and called for her, and she promptly flipped him off. Bobby was disappointed at the reaction and quietly threatened to bust her head if he had a rock. To save face, Bobby claimed to the Witwickys that his mammy was deaf. Transformers