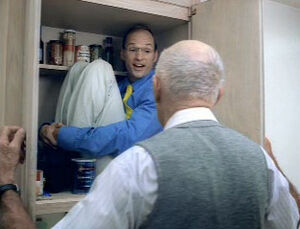 Brian Stepanek is an American actor who has been in eighty millions commercials, including the "flamethrower" one for Dairy Queen, as well as being the face of the "Dex" phone book company (for you Rocky Mountain region livin' folks). He's also been in several TV shows and movies, notably having a part in Michael Bay's pre-Transformers movie The Island, and is Arwin on the Disney Channel's The Suite Life of Zack and Cody.
It's RAINING BEER!
Transformers (2007)
External links
Ad blocker interference detected!
Wikia is a free-to-use site that makes money from advertising. We have a modified experience for viewers using ad blockers

Wikia is not accessible if you've made further modifications. Remove the custom ad blocker rule(s) and the page will load as expected.