This article is about the 2008 Universe-line Mini-Con dragon. For the Cybertron-series pterodactyl, see Brimstone (Cybertron).
Brimstone is a Mini-Con from the Armada portion of the Unicron Trilogy continuity family (via the Universe toyline).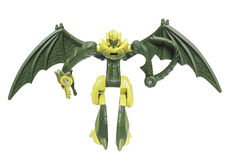 A member of the Decepticon-allied Ransack Team, Brimstone is trained for toxic warfare from the air. Sounds a little familiar...
Toys
Universe (2008)
Mini-Con 12-Pack (Multi-pack, 2008)

Brimstone is a redeco of Classics Nightscream, in sludge green and off yellow, transforming into a winged dragon. He was available only as part of a K-Mart exclusive twelve-pack along with Backstop, Blight, Bodyblock, Boltflash, Cloudraker, Flatfoot, Heavytread, Knockdown, Makeshift, Skyhammer, and Suppressor.
This mold was also used to make Dragoyell.
Brimstone was also packaged individually and is available at discount chains such as Big Lots.
External links
Ad blocker interference detected!
Wikia is a free-to-use site that makes money from advertising. We have a modified experience for viewers using ad blockers

Wikia is not accessible if you've made further modifications. Remove the custom ad blocker rule(s) and the page will load as expected.