The name or term Bumblebee refers to more than one character or idea. For a list of other meanings, see Bumblebee (disambiguation).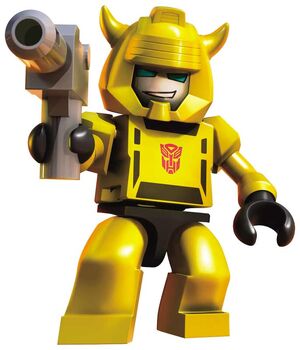 Bumblebee thinks he's just about the coolest Kreon you'll ever meet. When He's not punking the other Autobots, he'd like to spend his time cruising the freeway at top speed, with frequent breaks to pound on the Decepticons.
Toys
Bumblebee (Basic Kre-O set, 2011)
This is a smaller toy for Kre-O Bumblebee, who is designed to look more like his Generation 1 counterpart. He transforms into a yellow and black hatch-back.
He comes with no Kreons.
Bumblebee ($25 Kre-O set, 2011)
A larger Bumblebee construction set of 336 pieces. His is designed to look like his live-action film counterpart, with a head resembling his Generation 1 counterpart.
He comes with the Kreons Bumblebee, Red Alert and a human driver.
Notes
His hobbies are Pranking Prowl and speeding.
He likes hanging out anywhere there are lots of humans and loud music.
His big plan is to form a block-rockin' band and learn how to brick-surf.
Like Starscream, Bumblebee is featured in an internet advert for Kre-O, called "Bot Stars", in which he was auditioning in a talent contest.
Ad blocker interference detected!
Wikia is a free-to-use site that makes money from advertising. We have a modified experience for viewers using ad blockers

Wikia is not accessible if you've made further modifications. Remove the custom ad blocker rule(s) and the page will load as expected.