Ad blocker interference detected!
Wikia is a free-to-use site that makes money from advertising. We have a modified experience for viewers using ad blockers

Wikia is not accessible if you've made further modifications. Remove the custom ad blocker rule(s) and the page will load as expected.
The name or term Bumper refers to more than one character or idea. For a list of other meanings, see Bumper (disambiguation).
Bumper is an Autobot from the live-action movie continuity family.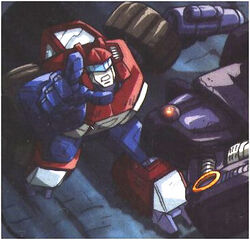 Bumper is an Autobot trainee. He usually looks panicky, and he never looks like a Movie design.
Note:
Neither Bumper nor Slipstream's names are directly attributed to bodies, but this guy sure looks more like a Bumper than a Slipstream.
Fiction
Titan Magazine comics
Bumper was part of a training group-turned-strike force led by Ironhide against a Decepticon prison facility. While Skyblast, Signal Flare and Strongarm drew the fortress' fire, Bumper and Slipstream followed Ironhide in on an attack run. They blasted their way in, finding the base deserted except for a single Swindle, and rescued their imprisoned comrade. Lost in Space part 3