The name or term Buzzsaw refers to more than one character or idea. For a list of other meanings, see Buzzsaw (disambiguation).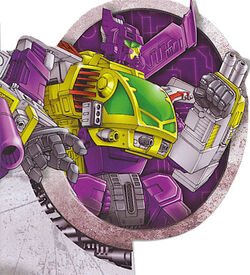 Fiction
Cybertron cartoon continuity
Force of Habit Dark Heart of Sandokan
Toys
Cybertron
Buzzsaw vs Blurr (Multi-pack, 2005)

Japanese ID number: GS-01
Accessories: 2 missiles, Cybertron Decepticon Cyber Key
Buzzsaw (Deluxe class, 2005)

Accessories: 2 missiles, Cybertron Decepticon Cyber Key
Notes
A model of Buzzsaw's helicopter form appears in the final leg of the Planet Cup race on Velocitron as an announcer. However, it is excessively unlikely that this is Buzzsaw, and just someone who happens to look like him, a not uncommon occurrence in Transformerdom.
Buzzsaw's Cyber Key Code info confirms the obvious: his name, head sculpt, and color scheme constitute an homage to Beast Wars Buzz Saw.
The card-art for the four Armada retooled toys are the only ones in the Cybertron line to not have a "painted" look to them.
Buzzsaw's toy was used as the model for the animation-only character Buzzbomb.
External links
Ad blocker interference detected!
Wikia is a free-to-use site that makes money from advertising. We have a modified experience for viewers using ad blockers

Wikia is not accessible if you've made further modifications. Remove the custom ad blocker rule(s) and the page will load as expected.