This article is about the
Power Core Combiners
Mini-Con. For the
Generation 1
Targetmaster, see Caliburst (G1).
Caliburst is an Autobot-allied Mini-Con from the Power Core Combiners series.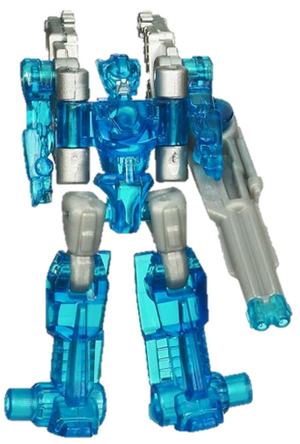 For such a small 'bot, Caliburst has incredible fire-power, and accuracy with it. In his cannon form he can hit a target beyond visual range. He is also, probably the only friend Huffer has.
Toys
Huffer with Caliburst (Commander, 2010)
Caliburst is formed out of translucent blue plastic, solid grey plastic and silver paint. He transforms into a cannon turret that can be attached onto to Huffer's truck bed, a robot, and armour.
This mold was later used for Darkray.
Ad blocker interference detected!
Wikia is a free-to-use site that makes money from advertising. We have a modified experience for viewers using ad blockers

Wikia is not accessible if you've made further modifications. Remove the custom ad blocker rule(s) and the page will load as expected.