Avast! Cannonball do be a Decepticon from the Cybertron portion of the Unicron Trilogy continuity family.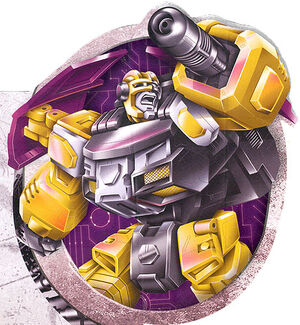 Leader of a gang of interstellar pirates and captain of the Sea Slag, the dread pirate they call Cannonball is only a Decepticon because Megatron lets his crew roam free, provided they leave the Decepticon starships alone and focus their attentions more on the Autobots. Cannonball is all too happy to do so. When he and his crew aren't looting and pillaging, they're causing trouble in some seedy port on Cybertron, using their ill-gotten gains to purchase black-market energon stars or dubious-sounding "pleasure programs".
Cannonball's crew can be readily identified by the bright airbrushed graphics that adorn their vehicle modes. Cannonball himself features bright green Oingo Boingo-style skeletons.
Though "Cannonball" has been terrorizing spacelanes for centuries, it has not been this Cannonball... he is in fact the tenth space pirate to use that name and legacy. One day he will train a replacement to take his name, and that pirate will take on the legacy with a whole new crew. Until that day, though, Cannonball plans to live it up!
On Earth, Cannonball and his then-landlubber crew prowl the highways, robbing shipments and retreating to the mythical Pirate Oasis.
Arrrr.
Fiction
Cybertron animated series continuity
The Dark Heart of Sandokan

I want to tell you about the Transformers!
---
This character article is a stub and is missing information on their fictional appearances. You can help Teletraan I: The Transformers Wiki by expanding it.
Toys
Cybertron
Cannonball (Deluxe class, 2006)

Accessories: Earth-style Cyber Planet Key, hammer and claw attachments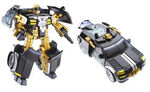 Cannonball is a redeco of the Cybertron Deluxe Red Alert toy, transforming into a Dodge Magnum with roof-mounted lights. In both vehicle and robot mode, inserting a Cyber Planet Key into his rear window releases a pair of flip-out (non-firing) blasters. Hidden in his legs (his car-mode hood) are hammer and claw attachments for the "blaster" stub on his left arm in place of a hand.
Universe
Search for the Pirate Moon (multipack, 2007)
Cannonball comes packaged with Cybertron Downshift.
Notes
The idea that the "Cannonball" persona is passed from pirate to pirate over the years is an obvious nod to the Dread Pirate Roberts from The Princess Bride.
Cannonball's online bio note has a discrepancy from the version on the package back. The online note refers to Cannonball's crew spending their loot on (in addition to black-market Energon stars) something referred to as "pleasure programs"; on the package, the line is the same, but "pleasure programs" has been replaced by the more family-friendly "hot, airbrushed graphics for their vehicle modes".
External links
Ad blocker interference detected!
Wikia is a free-to-use site that makes money from advertising. We have a modified experience for viewers using ad blockers

Wikia is not accessible if you've made further modifications. Remove the custom ad blocker rule(s) and the page will load as expected.