This article is about the Mini-Con. For the Pretender Beast, see Chainclaw (G1).
Chainclaw is a Decepticon-allied Mini-Con from the Power Core Combiners series.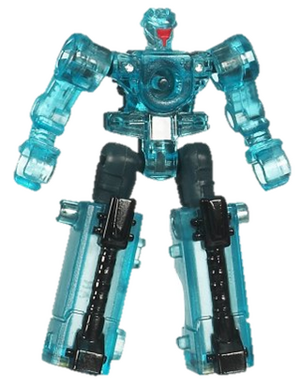 Chainclaw loves missiles, that's why he chose the form of a rocket pod. Attached to his partner Icepick, he can launch eight missiles a second. He also has powerful serrated claws that can rip apart other Mini-Cons or even Autobots. He is a valuable weapon to the Decepticons.
Toys
Icepick with Chainclaw (Commander, 2010)
Chainclaw is formed out of translucent blue and solid black plastic with silver paint. Contrary to the stock image, his arms are actually painted silver. He transforms into a missile launcher or also an armour that can attach to Icepick.
Ad blocker interference detected!
Wikia is a free-to-use site that makes money from advertising. We have a modified experience for viewers using ad blockers

Wikia is not accessible if you've made further modifications. Remove the custom ad blocker rule(s) and the page will load as expected.