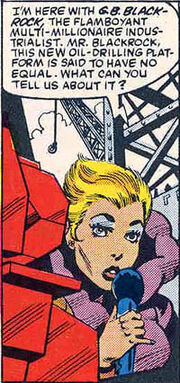 The name or term Charlene refers to more than one character or idea. For a list of other meanings, see Charlene (disambiguation).
Charlene is a human in the Generation One continuity.
Charlene Welles is a correspondent for a television news program. She has really bad makeup.
Fiction
Marvel Comics continuity
Charlene Welles interviewed G.B. Blackrock on location about his new state-of-the-art oil-drilling platform.[1] Blackrock turned the question session towards Josie Beller, the rig's designer. Beller explained how the rig's automated defenses were impenetrable. This information was broadcast live into millions of televisions, including the Decepticon Shockwave's, who decided to attack the oil rig. He quickly proved the claims that the defenses were "impenetrable" to be untrue.
Ad blocker interference detected!
Wikia is a free-to-use site that makes money from advertising. We have a modified experience for viewers using ad blockers

Wikia is not accessible if you've made further modifications. Remove the custom ad blocker rule(s) and the page will load as expected.