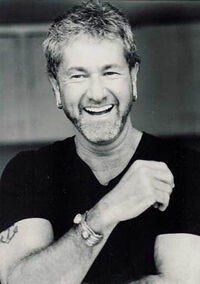 Charlie Adler (February 27, 1957 - ) is an American voice actor. Outside of Transformers, he is known for voicing Tiny Toon Adventures's Buster Bunny, G.I. Joe's Low Light, T-Bone from SWAT Kats, and the entire cast of Cow and Chicken (and as such is the King--and Queen--of Cheese).
He is one of three voice actors (the others being Peter Cullen and Frank Welker) who appeared in both the The Transformers cartoon and the live-action films.
Voice actor
The Transformers cartoon
Transformers 2007 film
Transformers: Revenge of the Fallen film
Transformers: Dark of the Moon film
Notes
External links
Ad blocker interference detected!
Wikia is a free-to-use site that makes money from advertising. We have a modified experience for viewers using ad blockers

Wikia is not accessible if you've made further modifications. Remove the custom ad blocker rule(s) and the page will load as expected.