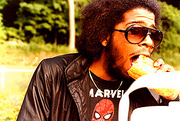 Jim Owsley is a comic book creator and music producer, credited as being the first black editor in American comics. He was mentored by Larry Hama early in his career, and has had several collaborations with M.D. Bright. He currently works under the name Christopher J. Priest.
Transformers comics credits
Marvel Transformers (US):
Editor - Issues 5-9
External links
Ad blocker interference detected!
Wikia is a free-to-use site that makes money from advertising. We have a modified experience for viewers using ad blockers

Wikia is not accessible if you've made further modifications. Remove the custom ad blocker rule(s) and the page will load as expected.