This article is about the Autobot from Dark of the Moon. For the Min-Con from Armada, see Comettor (Armada).
ArmorhideComettor is an Autobot from the Dark of the Moon portion of the live-action film series continuity family.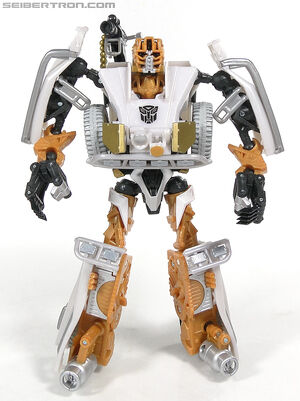 Comettor is built for Lunar battles, and is specialized in low gravity combat situations. Quick, agile, and tough, he is specially engineered for ultimate performance on the harsh lunar surface. His high-caliber compressed Energon cannon easily breaks through Decepticon fortifications, allowing Optimus Prime and his Autobot soliders to roll in with the heavy weaponry.
Toys
Optimus Prime / Includes Deluxe Class Comettor (Walmart exclusive, 2011)

Accessories: "Energon assault cannon"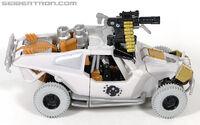 Comettor is sold as part of a Walmart exclusive in United States and a Smyths exclusive in the U.K. as part of a "Bonus Value" two pack with Battle Blades Optimus Prime (Dark of the Moon version).
He is a white and orange repaint of Landmine and Armorhide mold. The new paint scheme is designed to make him look like a lunar vehicle. On his wings, he has a silhouette of Cybertron.
Ad blocker interference detected!
Wikia is a free-to-use site that makes money from advertising. We have a modified experience for viewers using ad blockers

Wikia is not accessible if you've made further modifications. Remove the custom ad blocker rule(s) and the page will load as expected.