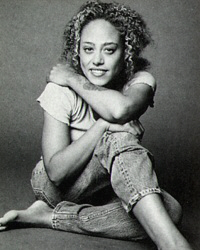 Cree Summer (born Cree Summer Francks on July 7, 1969) is an American voice actress. She is best known for roles such as Penny on Inspector Gadget, Elmyra on Tiny Toon Adventures, Lady MacBeth on Project GeeKeR, Dulcy the Dragon on Sonic the Hedgehog, Hyena on Gargoyles, Susie Charmichael on Rugrats and All Grown Up, Foxxy Love on Drawn Together, Numbuh 5 on Codename Kids Next Door and Dr. Young in Batman: Arkham Asylum.
Along with Tara Strong and Tress MacNielle, she is essentially one of three women doing every female voice in cartoons today. (Okay, Grey DeLisle is getting there too...)
Transformers Animated
Notes
Cree Summer had this to say on her experience as a voice actress:
"I was an only child for 10 years, I didn't start school until 8, and I didn't have a TV for years. So I found all these voices when playing with my toys. They're really my toys' voices. Schizophrenia comes in handy."
External links
Ad blocker interference detected!
Wikia is a free-to-use site that makes money from advertising. We have a modified experience for viewers using ad blockers

Wikia is not accessible if you've made further modifications. Remove the custom ad blocker rule(s) and the page will load as expected.