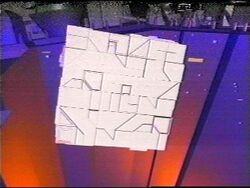 The Cybernet Space Cube is a device featured during the Generation 2 television series. Consisting of multiple sliding panels and monitors, the Cybernet Space Cube provided a visually striking means for scene changes during programming broadcasts. What function the Cybernet Space Cube actually served, aside from its unique form of visual stimulation, is unknown.
Fiction

You left a piece out!
---
This article is a stub and is missing information. You can help Teletraan I: The Transformers Wiki by expanding it.
Notes
According to the Transformers Generation 2 series credits, the Cybernet Space Cube CGI was animated by Doros Motion, specifically animator Carl Edwards and animation director Doros Evangelides.
Ad blocker interference detected!
Wikia is a free-to-use site that makes money from advertising. We have a modified experience for viewers using ad blockers

Wikia is not accessible if you've made further modifications. Remove the custom ad blocker rule(s) and the page will load as expected.