D-Go is an Autobot Micromaster from the Return of Convoy portion of the Generation One continuity family.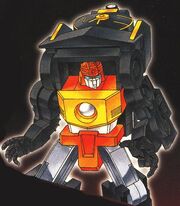 D-go (also transliterated as "Deego" and "Diego") combines with his teammates to form Sixliner. He has the wonderful fortune of being the only steam engine on a team full of bullet train locomotives.
Fiction
The Battlestars story pages
Micromaster Collection
Toys
Return of Convoy
Sixliner (Micro Transformer Six-Team, 1991)
Japanese ID number:
No, seriously. He does.
Micromaster Collection
D-Go (Micromaster Sixtrain, 2002)

Sixtrain ID number:
Accessories:
D-Go and his teammates were re-released in Japan in 2002, this time sold in identical individual boxes. D-Go was #1 in the set, identifiable only by the number on his instruction sheet visible through a small hole in the box. Like the rest of the Micromaster Collection figures, D-Go's stickers were either replaced with tampographs or dropped entirely.
Notes
D-Go is generally meant to resemble, and most likely named after, the D51 steam locomotive, since "go" is "five" in Japanese.
External links