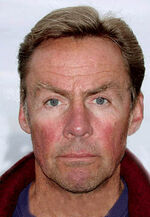 Dale Wilson is a Canadian voice actor. Among his better-known roles are Java and Billy on Martin Mystery, Bruiser on Bucky O'Hare and the Toad Wars, Cell from Dragon ball Z, Clow reed from Clamp's XXXholic, Welman Matrix on ReBoot, and as the current Man From Glad in commercials for Glad plastic bags.
Voice roles
Armada
Cybertron
External links
Ad blocker interference detected!
Wikia is a free-to-use site that makes money from advertising. We have a modified experience for viewers using ad blockers

Wikia is not accessible if you've made further modifications. Remove the custom ad blocker rule(s) and the page will load as expected.