Dark Guardian robots are Quintesson drones from the cartoon portion of the Generation One continuity family.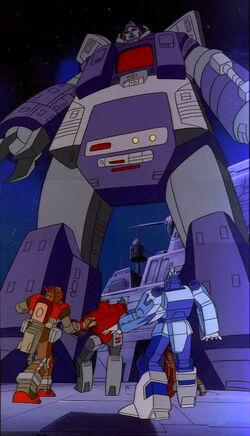 To the Autobots, the Guardian robots are a reassuring sight, knowledge that they are safe. It was not always so. For the Guardian robots have a horrifying ancestor, the Dark Guardians, who enforced the reign of the Quintessons during their rule of Cybertron.
Fiction
The Transformers cartoon
Knowing that the Quintessons would be helpless without their Dark Guardians, the Autobot A3 devised the Coda Remote which would help the Autobots in their rebellion against the Quintessons. However, the Quintessons of the future, seeking to prevent that from happening, pulled A3 from his time to the future, hoping it would stop the rebellion. However, their efforts also resulted in Blaster, Blurr, and Wreck-Gar being sent into the past. Briefly confusing a Dark Guardian for a Guardian robot, the Autobots fled from their would-be destroyer, only to be rescued by Beta, A3's lieutenant.
After realizing their location in the timeline, the future Autobots joined their ancestors in their assault on Hive City. As they debated how to strike, Ramhorn performed a simply effective (yet nearly suicidal) charge on the Dark Guardians. The future Autobots, having years of experience in warfare, were able to help the Autobot rebellion in destroying several Dark Guardians, but numbers were against them. However, A3 managed to return to his timeline (thanks to the efforts of the future Autobots in the future) and activated the Coda Remote, bringing the Dark Guardians to a halt. The rest is literally history. Forever is a Long Time Coming
Ad blocker interference detected!
Wikia is a free-to-use site that makes money from advertising. We have a modified experience for viewers using ad blockers

Wikia is not accessible if you've made further modifications. Remove the custom ad blocker rule(s) and the page will load as expected.