This article is about the
live-action movie series
Decepticon. For the
Prime
Predacon, see Darksteel (Prime).
Dark Steel is a Decepticon from the Dark of the Moon portion of the live-action film series continuity. He is sometimes known as Dark Steel.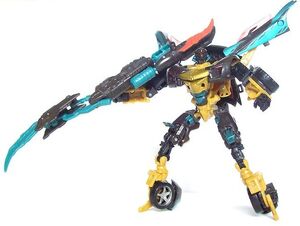 Darksteel is a traditionalist. As a student of some of the most respected Decepticon warriors on Cybertron, he learned there is no substitute for a razor-sharp blade and clever mind. Blasters and cannons get the job done, but may fail in the heat of battle. The blade never falters.
Toys
Dark Steel (Deluxe, 2011)
Accessories: Mechtech Blasters/Blades.
Darksteel is a retooling of the Deluxe Dark of the Moon Sideswipe with a new head sculpt and the color scheme resembling Beast Wars Quickstrike. He is gun-metal grey with blue flames painted on the hood, and he now has a red windscreen. On top of the Instructions it says "Autobot" and on the box it says "Decepticon".
His MechTech weapons are redecoed from Starscream's.
Notes
As mentioned above, Darksteel is an homage to Beast Wars

Has the Imperial Magistrate reached a verdict?
---
This article is currently pending deletion.
If you do feel that this article should not be deleted, please say why on its talk page.
Quickstrike
.
[1]
References
↑ Confirmed by Lenny Panzica l on BotCon 2011.