Deadly Paradise is a UK storybook set in the Generation One continuity family.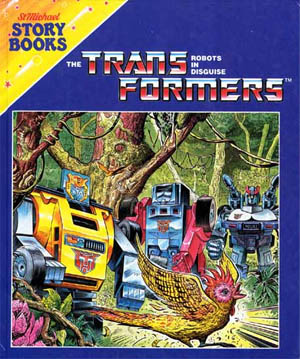 When Sideswipe is falsely convicted of destroying the Nova Suspension Bridge, Prowl takes a team of Autobots to Carob Island in search of the truth.
Vital Statistics
ISBN 0-361-07285-6
Writer: Gerry Bailey
Illustrator: Angus McKie
Pagecount: 29pp
Major characters:
Originally published: In the UK by Purnell Books, 1986
Synopsis
Notes
The art in this book is just hilarious with many characters being based on their toys, such as Bumblebee's head being painted onto a block.
One of the most violent deaths in Transformers history occurs in this book when Windcharger crushes Starscream. Jeez, that guy just can't catch a break.
When Prime gets pissed off, smoke comes out of his smokestacks.
External links
Ad blocker interference detected!
Wikia is a free-to-use site that makes money from advertising. We have a modified experience for viewers using ad blockers

Wikia is not accessible if you've made further modifications. Remove the custom ad blocker rule(s) and the page will load as expected.