Demolishor is a Decepticon from Prime continuity family.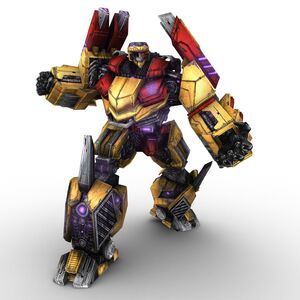 Games
War for Cybertron video game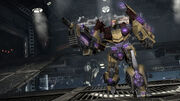 He is one of the characters in DLC pack 1.
Fall of Cybertron video game
Demolishor's parts can be used in the customization menu for the game's multiplayer. They can be obtained in exchange for Energon Shards. He is classified as a Titan due to his tank alternate form.
Rise of the Dark Spark video game
Further information in this article is coming soon as it pertains to information that is not currently appropriate for inclusion.
See the relevant policy page for the reasons why, and do not add further information pending review.
Notes
Demolishor was originally one of three exclusive characters that could be obtained by Pre-ordering at Amazon. He can now be obtained by getting DLC pack 1, along with four other characters.
Ad blocker interference detected!
Wikia is a free-to-use site that makes money from advertising. We have a modified experience for viewers using ad blockers

Wikia is not accessible if you've made further modifications. Remove the custom ad blocker rule(s) and the page will load as expected.