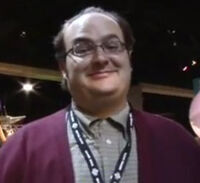 Derrick J. Wyatt (10 August, 1972- ) is an American artist and character designer. He has done character designs for series such as Foster's Home for Imaginary Friends, but is best known as a character designer on the series Teen Titans. He is currently the art director, lead character designer, and a color stylist on Transformers Animated.
While attending the Joe Kubert school of art in New Jersey, one of his teachers was Jose Delbo.
Freaky, man.
He longs to have Animated feature appearances/homages for Lord Chumley and Slizardo.
Convention guest
External links
Ad blocker interference detected!
Wikia is a free-to-use site that makes money from advertising. We have a modified experience for viewers using ad blockers

Wikia is not accessible if you've made further modifications. Remove the custom ad blocker rule(s) and the page will load as expected.