Hill is a human in the Generation One continuity family.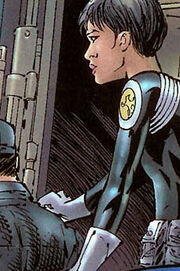 Director Hill is the leader of S.H.I.E.L.D. She's probably very cranky.
Fiction
The New Avengers/The Transformers
Hill observed the conflict between Latveria and Symkaria spurred by Megatron and the Decepticons, working in conjunction with the Avengers. Man and Machine, Part One
External links
Ad blocker interference detected!
Wikia is a free-to-use site that makes money from advertising. We have a modified experience for viewers using ad blockers

Wikia is not accessible if you've made further modifications. Remove the custom ad blocker rule(s) and the page will load as expected.