The name or term Dirge refers to more than one character or idea. For a list of other meanings, see Dirge (disambiguation).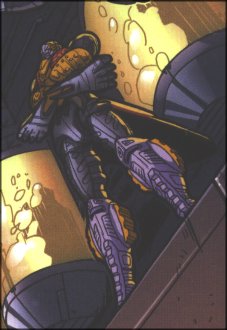 Dirge is one of the last surviving Insecticons. He was originally one of their primary commanders, and is fanatically loyal to the Decepticons. He possesses an array of combat abilities, including acid-secreting claws, an incapacitating sonic screech, and the ability to shoot electricity from his robot-mode hands, but his greatest asset is his tactical knowledge.
Fiction
Descent into Evil
Long after the Insecticon clan had dispersed, Dirge and Buzzclaw were recruited by Deathsaurus to serve as the basis for a new army of Insecticon clones. Deathsaurus established a research center on Ceti Alpha Seven, where he unlocked the pair's long-dormant cloning abilities. When the Autobots discovered the facility and sent a team to destroy it, Dirge led an ambush against them. Although the Decepticons won that battle, the arrival of reinforcements ultimately led to an Autobot victory, with the cloning center destroyed and the clones' genetic matrices poisoned. Dirge's final fate remains unrevealed. Descent into Evil
Toys
Timelines
Descent into Evil (Multi-pack, 2005)
External links
Ad blocker interference detected!
Wikia is a free-to-use site that makes money from advertising. We have a modified experience for viewers using ad blockers

Wikia is not accessible if you've made further modifications. Remove the custom ad blocker rule(s) and the page will load as expected.