This article is about the
Power Core Combiners
Autobot. For the
Generation 2
character, see Double Clutch (G2).
Double Clutch is an Autobot Commander from the Power Core Combiners series.
Double Clutch has always been a master of diversionary tactics. His entire team is built around the idea of confusing and disrupting Decepticon operations. The speed and noise of the Rallybots alone is enough to strain any robot's sensors. Add to that all the electronic countermeasures built into the team, and the Rallybots become the single greatest threat to Decepticon strategy.
Toys
Double Clutch with Rallybots. (Commander, 2010)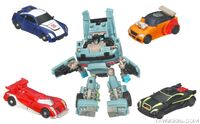 Double Clutch transforms into a silver sports car. In humanoid mode, he is quite a stocky fellow; he has a big, wide chest, large feet and a tall backpack. However, his arms are really skinny and he has a tiny head. In combined form, this is less apparent. The Rallybot drones, all racing-type cars, attach via the blue pegs. Unfortunately, like Skyburst, he doesn't really have hands in this mode.
Ad blocker interference detected!
Wikia is a free-to-use site that makes money from advertising. We have a modified experience for viewers using ad blockers

Wikia is not accessible if you've made further modifications. Remove the custom ad blocker rule(s) and the page will load as expected.