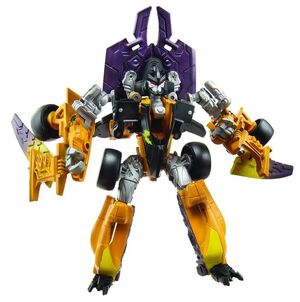 Drag Strip recognized the potential of an alliance with the humans right away. With an expert driver like Master Disaster at the wheel, the Decepticon is free to concentrate on executing his elaborate plans for the doom of the Autobots.
Toys
Master Disaster / Decepticon Drag Strip (Human Alliance Basic, 2011)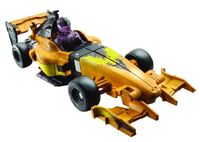 Drag Strip transforms into a yellow and purple F1 racer, though it is a little out of scale with Master Disaster. His third mode is pretty simple: the bottom of the car slides out and Hey Presto, its a shield. The blades can be detached though, and used as scythes in humanoid mode.