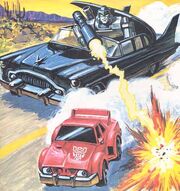 Earl Norem
(1923?-) is an artist who worked on many comic book projects throughout 1960s, 70s, and 80s. He is most known for fully-painted covers to comics such as
The Savage Sword of Conan
. However, Norem has painted for a wide variety of genres and properties, including
He-Man
and
Star Wars
.
Norem's Transformers work consists of four Marvel Big Looker storybooks, some of which were later adapted into read along storybooks by Kid Stuff:
Norem's style is colorful, expressive, and dynamic. His Transformers work in particular is unusually error-free and self-consistent, especially for licensed Transformers art in that era (1984-86). One quirk of his Transformers artwork is that all the Autobots display "eyes" in their headlights while in car mode. Additionally, he consistently portrays Optimus Prime with a mouth rather than a faceplate.
External links
Ad blocker interference detected!
Wikia is a free-to-use site that makes money from advertising. We have a modified experience for viewers using ad blockers

Wikia is not accessible if you've made further modifications. Remove the custom ad blocker rule(s) and the page will load as expected.