This article is about a character or characters with no official name or descriptor.
For more information see Help:Nameless characters.
The early Decepticon leader was a Decepticon in the cartoon portion of the Generation One continuity family.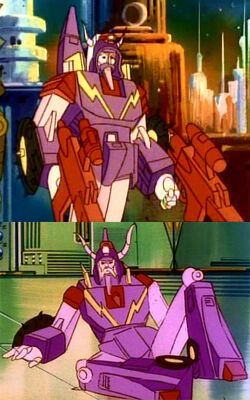 The early Decepticon leader came to lead the former military hardware following the Quintessons' departure from Cybertron. He engaged on a campaign of conquest with his soldiers that ended only when the Autobots invented the art of Transformation, and U-Haul Robot kicked the snot out of him. He was the leader just before Megaton. Five Faces of Darkness, Part 4
Ad blocker interference detected!
Wikia is a free-to-use site that makes money from advertising. We have a modified experience for viewers using ad blockers

Wikia is not accessible if you've made further modifications. Remove the custom ad blocker rule(s) and the page will load as expected.