Earthquake is a multipath adventure in Generation One.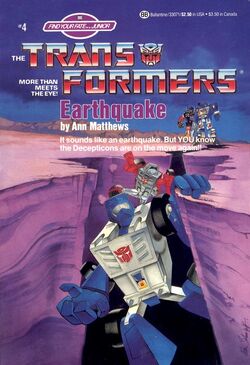 Vital Statistics
ISBN 0-345-33071-4
Writer: Ann Matthews
Illustrator William Schmidt (interior pencils and cover painting)
Pagecount: 73pp
Major characters:
Originally published: by Ballantine Books under the Find Your Fate Junior imprint, 1985
Synopsis
Beachcomber discovers a hidden Decepticon base, from which they are planning to destroy the nearby Center City, a dry run at destroying all the world's capitals.
Jesse and Buster, exploring nearby, also discover Megatron's plan.
A crack team of Autobots infiltrate the fortress to destroy Megatron's weapon (running into a conspiracy between Starscream and Soundwave to unseat Megatron in the process).
Keywords
Jesse, Center City, Destruction Beam, Destructicon chip
Notes
One of the vanishingly few appearances of Jesse outside of Marvel Comics.
External links
Ad blocker interference detected!
Wikia is a free-to-use site that makes money from advertising. We have a modified experience for viewers using ad blockers

Wikia is not accessible if you've made further modifications. Remove the custom ad blocker rule(s) and the page will load as expected.