Earthquake is a Decepticon in the Generation One continuity family.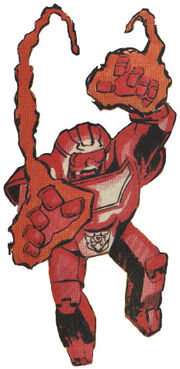 Earthquake was once a great warrior, an ambitious man who thought he could rebel against the Decepticons. Now he's a bit too dead to rebel against anything.
Fiction
UK Comics continuity
Earthquake tried to rebel against the Decepticons and got himself caught. Given his choice of punishment, he opted for Trial By Combat, where he faced his former comrade Tornado. Despite apparently being able to "WARP THE VERY SURFACE OF CYBERTRON!" he didn't make it out alive. In fact, neither of them did.
Watching this on a tape years later, Megatron thought that this would be a good way to rid himself of Starscream. The Enemy Within!
Ad blocker interference detected!
Wikia is a free-to-use site that makes money from advertising. We have a modified experience for viewers using ad blockers

Wikia is not accessible if you've made further modifications. Remove the custom ad blocker rule(s) and the page will load as expected.