An electropulse is an aspect of Transformer physiology and, if fading, meant they were slowly dying.
It seems comparable to a Human pulse.
Fiction
Generation One cartoon continuity
When Optimus Prime was heavily damaged after a Decepticon attack, his electropulse was fading rapidly and would have meant his termination had he not been repaired. Divide and Conquer
Marvel Comics continuity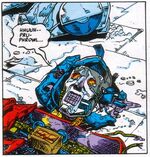 There is a device showing Powermaster Optimus Prime's electropulse on his destroyed torso. Still Life!
Ad blocker interference detected!
Wikia is a free-to-use site that makes money from advertising. We have a modified experience for viewers using ad blockers

Wikia is not accessible if you've made further modifications. Remove the custom ad blocker rule(s) and the page will load as expected.