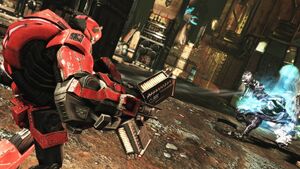 The Energon Harvester is a device that fires a two burst shot that both damages enemies and leaches their energon out of them and into the wielder.
The weapon functions in a similar manner to the EMP shotgun from WFC, however if has less ammunition due to its classification as a heavy weapon.
It appears that this weapon serves to replace both the EMP Shotgun and Megatron's special ability to absorb energon from his enemies.