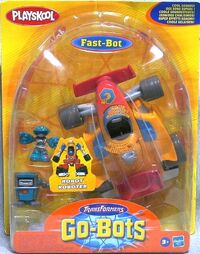 Fast-Bot is a Playskool Go-Bot in the Go-Bots continuity.
Fast-Bot is a powerful high-speed racer.
Fiction
No fictional appearances.
Toys
Playskool Go-Bots
A recolor of Speed-Bot II, Fast-Bot was produced for 2004, but was not released. He was available in the UK in 2005 after the line had been cancelled.
External links