This article is about the jet styled after some 70s curtains. For the lemon demon with the funky gun, see Fearswoop (G1).
Fearswoop is a Decepticon form the Revenge of the Fallen portion of the live-action film continuity family.
Fearswoop turns into a fighter jet. He is orange with tiger patterns.
Toys
Revenge of the Fallen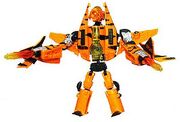 Fearswoop (Wal-Mart exclusive multi-pack "The Fury of Fearwoop", 2009)
Ad blocker interference detected!
Wikia is a free-to-use site that makes money from advertising. We have a modified experience for viewers using ad blockers

Wikia is not accessible if you've made further modifications. Remove the custom ad blocker rule(s) and the page will load as expected.