This article is about the jet styled after some 70s curtains. For the lemon demon with the funky gun, see Fearswoop (G1).
Fearswoop is a Decepticon form the Revenge of the Fallen portion of the live-action film continuity family.
Fearswoop turns into a fighter jet. He is orange with tiger patterns.
Revenge of the Fallen
Edit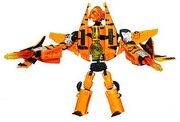 Fearswoop (Wal-Mart exclusive multi-pack "The Fury of Fearwoop", 2009)